© Pride of Anglia. All rights reserved.
Pride of Anglia legal stuff.
A Potted Club History - The 1910's
<![if !vml]>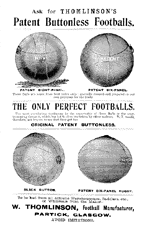 <![endif]>Results and tables for the following seasons can be found in our all-time results section.
The Decades Winners
League Champions: 1910 Aston Villa, 1911 Manchester United, 1912 Blackburn Rovers, 1913 Sunderland, 1914 Blackburn Rovers, 1915 Everton (no further league programme, due to WWI, until the 1919-20 season)
FA Cup Winners: 1910 Newcastle United, 1911 Bradford City, 1912 Barnsley, 1913 Aston Villa, 1914 Burnley, 1915 Sheffield United (no further competition, due to war, until the 1919-20 season)
---
Season 1910-11
Town finish fourth bottom in the Southern Amateur League and go out of the AFA Cup in the second round. The first ever 'European Tour' is undertaken at the end of the season with the Blue's playing two matches against Slavia Club of Prague.
<![if !supportEmptyParas]> <![endif]>
Season 1911-12
Town clinch the Suffolk Senior Cup with a 2-1 win against Haverhill Rovers in the Final. A wrangle over expense payments sees top scorer and London based Billy 'Swanky' Malden leave the club. Malden returns later in the season with the Civil Service and hits a hat-trick in a 4-2 victory for the visitors. Corinthians make another visit to Portman Road and are restricted to a 4-0 win.
<![if !supportEmptyParas]> <![endif]>
Season 1912-13
The Suffolk Senior Cup is retained but it was Town's exploits in the Amateur FA Cup that caused the most excitement with the Blue's reaching the semi-finals for the very first time were dreams of reaching the final are dashed in a 2-1 loss to New Crusaders. Forth place is achieved in the Southern Amateur League.
<![if !supportEmptyParas]> <![endif]>
Season 1913-14
A distinctly average season sees Town reach the AFA Cup 3rd round and finish the Southern Amateur League season in mid-table.
<![if !supportEmptyParas]> <![endif]>
Season 1914-15
Just a handful of games are played by the club before War is declared on August 4th. In the Autumn the ground was commandeered by the War Office and that was the end of organised football for Town for six years.