© Pride of Anglia. All rights reserved.
Pride of Anglia legal stuff.
A Potted Club History - The 1880's
<![if !vml]>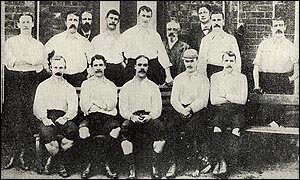 <![endif]>Results and tables for the following seasons can be found in our all-time results section.
The Decades Winners
League Champions: 1889 Preston North End
FA Cup Winners: 1880 Clapham Rovers, 1881 Old Carthusians, 1882 Old Etonians, 1883 Blackburn Olympic, 1884 Blackburn Rovers, 1885 Blackburn Rovers, 1886 Blackburn Rovers, 1887 Aston Villa, 1888 West Bromwich Albion, 1889 Preston North End
Pictured above: 1889 League Champions Preston North End
---
Season 1880-81
The biggest win in the Club's entire history is recorded with a 15-0 win against East Stamford, John Knights registering three hat-tricks to become the highest ever individual scorer in one game. 86 goals were scored in sixteen fixtures with the Club still undefeated at home.
<![if !supportEmptyParas]> <![endif]>
Season 1881-82
Not a single game is lost during the entire season and only Colchester Town (forerunner of Colchester United) are able to hold Ipswich to a draw. Sixteen-year-old Stephen Notcutt makes his debut. Notcutt served the club as player, captain and committee member for over forty-years until his death in 1923.
<![if !supportEmptyParas]> <![endif]>
Season 1882-83
An outhouse at The Inkerman on Norwich Road served as club's changing rooms during these early years with the club now playing most home games at Brook's Hall. A severe winter prevented many competitive games from being played and practice matches became a common feature at weekends. Smokers v Non-Smokers a favourite way of organising the players.
<![if !supportEmptyParas]> <![endif]>
Season 1883-84
Ipswich Association undertake their first away trip to London were they are narrowly beaten 3-2 by The Pilgrims in Walthamstow. The Pilgrims are also the opposition when the club play their first ever game at Portman Road in a benefit match for the East Suffolk Hospital. A combination of Broom Hill and Brook's Hall continued to be used for other home games.
<![if !supportEmptyParas]> <![endif]>
Season 1884-85
Seven Association players represent Suffolk County in a 4-1 win over Norfolk.
<![if !supportEmptyParas]> <![endif]>
Season 1885-86
The Suffolk Challenge Cup is launched and the Association beat Ipswich Rangers, Beccles College and Sudbury to reach the final. The largest ever crowd to watch a game in Suffolk so far see the Association and Woodbridge play out a 2-2 draw at Portman Road. Two replays are required before Woodbridge clinch the trophy.
<![if !supportEmptyParas]> <![endif]>
Season 1886-87
A landmark season as the club win their first ever trophy, beating Ipswich School 2-1 in the final at Portman Road to lift Suffolk Challenge Cup. And, according to the EADT's report of events "… the pavilion was filled, and the sides of the field lined, with the youth and beauty of the town".
<![if !supportEmptyParas]> <![endif]>
Season 1887-88
In what proved to be the Club's final season at Brook's Hall they were knocked out of the Challenge Cup in the 2nd Round and overall lost six out of sixteen matches. Ernest Aldous Kent makes his debut. Until injury forced him to retire in 1902, the inside forward or centre-forward scored fifty-five goals for the club in competitive games and more three times that number in friendly fixtures.
Season 1888-89
The club merges with Ipswich Rugby Club to become Ipswich Town Football Club and makes Portman Road its permanent home. Fourteen of twenty matches are won during the season including the Suffolk Challenge Cup final in which Newmarket are beaten 4-0. Over 3,000 watch the final at Portman Road including many non-paying spectators who stormed a gate on Constantine Road.
Season 1889-90
Town win the inaugural Suffolk Senior Cup with a 4-1 win in the final against Long Melford (the County FA having channelled entries from the old Suffolk Challenge Cup into two separate competitions for junior and senior sides). Seventeen wins, two draws and just a single defeat are registered during the season.